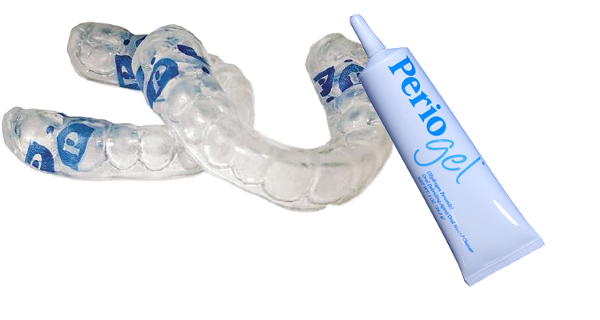 Treating gum disease with anti-bacterial compounds has always been a promising idea, but keeping these anti-microbial agents in contact with dental plaque long enough to make it effective, has been a problem. Add to this, the fact that medications are needed far below the gum line, and one can see the problems associated with this sort of chemical treatment.

Recently, the FDA approved a new type of appliance that delivers anti-microbial agents below the gum line and holds these agents in contact with plaque to thoroughly destroy the bacterial colonies which make up dental plaque!

The system known as PerioProtect, uses a novel, patented, tray design that seals its inner surface to the gum tissue. When a 1.7% gel solution of hydrogen peroxide is added to the tray, the oxygen bubbles that are released, create a build-up of pressure---pressure that forces the hydrogen-peroxide gel all about the teeth and even below the gum line into the deep pockets.
The result is a system which is showing amazing results in treating gum disease! Often, the weak point in conquering gum disease has been a patient's home care. Thorough removal of plaque on a daily basis is essential, and many times, patients just aren't getting all the plaque off their teeth. This is especially true in hard to reach areas, like those near periodontal pockets.

The PerioProtect system makes efficient and effective plaque removal almost full-proof. Simply place the trays in place for 10 minutes, after brushing and flossing, and let it do its magic. It then goes to work killing any plaque bacteria left behind after your normal oral hygiene routine.

Our office is proud to now offer this exciting new system to manage and control Adult Periodontitis, and we urge all our patients on Periodontal Maintenance Care, to consider it. It has proven itself time and time again as one of the best ways to improve gingival health and stop gum disease in its tracks.
ASK ANY OF OUR STAFF MEMBERS OR DOCTOR ABOUT HOW THE PERIOPROTECT SYSTEM CAN BENEFIT YOU!